A quick note, this post spans both my Collaborative Improv work and exploration in UX Research.
Early in March, I had the privilege to visit Guadalajara, Mexico and share both Collaborative Improv with the local EPAM office (thank you for hosting me!) and UX Research with the broader IxDA Community at their Digital Tech Fest.
I should note, this post took a bit of a delay in getting out as the world addresses the COVID-19 health pandemic. I hope everyone reading this is practicing social distancing and is safe and healthy. In an effort to promote some social connections, I am hosting a Free Improv Jam session Thursday, March 19 from 8-9PM EDT. Details available here.
A Summary of Presentations
4 Presentations over three days. I was wiped. As I wrote the initial draft of this post I took Monday that I returned as PTO to recover from the energy and pace of those few days. Rather than recap my presentations, I will summarize them here:
Collaborative Improv: Meetings & Facilitation Through Improvisation
Shared with the local EPAM office, I crafted a 2-hour workshop on leveraging improvisation specifically for facilitation. With 18 colleagues in attendance, we expanded on the notion of product design, seeking to understand and build how improvisation supports active listening, meeting facilitation, and workshop coordination.
Integrating Design & Development
After Collaborative Improv, I had the opportunity to share a colleague's case study on leveraging JIRA as a tool for Design and Development integration. While not my original content, I was able to share my perspective and an (adopted) workflow with the team to illustrate how design and dev can collaborate efficiently in the tools already available to us.
UX Research: Field Research Basics and Workshop
On Friday of Digital Tech Fest, the event, I shared a 45-minute presentation on the basics of Field Research to an audience of nearly 200 practitioners. Saturday, I shared a half-day workshop on Research Methods Selection and Synthesis to a room of 30+ folks.
In both cases, the questions, conversations, and activities left me recharged and excited about the future of research and the industry as a whole.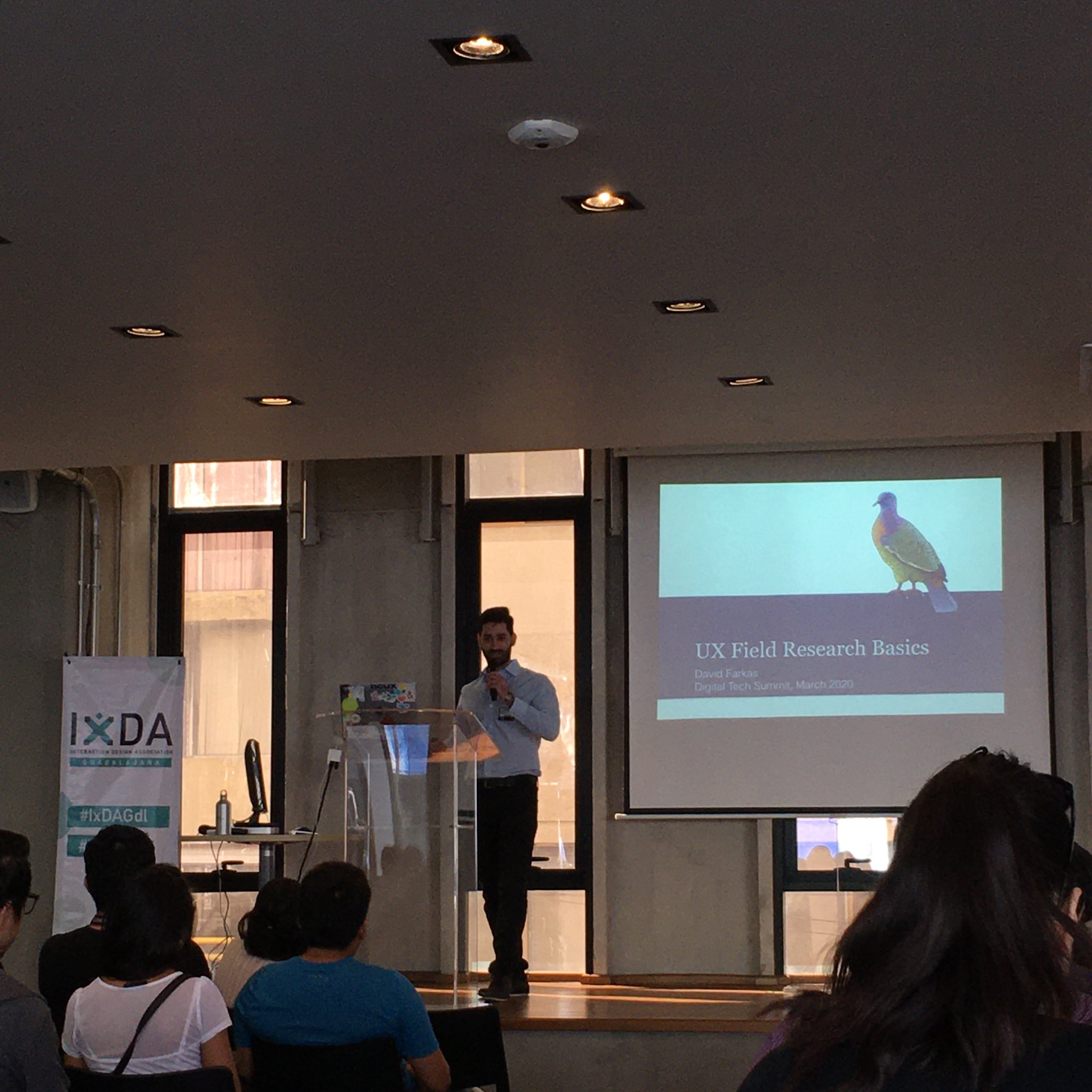 Key Takaways
This was my second international conference. And it is always a thrill sharing my perspective with a global community. Thank you to everyone who attended and shared their perspective with me. I have two key takeaways from my time abroad:
Motivations Matter
A number of questions, across all four conversations, were based around "am I running the right workshop activity" or "what do I do when a non-UX person asks me to do research"?
In both of these cases, and many more, I always suggest exploring the deeper motivations. Workshop activities and research methods are our tools. But we can only use our tools when given the correct motivations. What is the goal (outcomes) of a workshop? What is the motivation for asking a research question? Is someone genuinely curious about customer motivations or do they need to make their numbers for the quarter and are looking to shift responsibility?
The more we can understand our colleagues, our clients, and our customers' motivations, the better we can craft activities, products and tools to support them. The better we can find the sandwich.
Methods vs Techniques
One workshop participant asked me how I balance Methods vs Techniques. I want to define these for a common vocabulary and share how they apply to our work.
Methods are the tools, workflows, and processes we use in our craft. Contextual Inquiry is a research method. Affinity diagram is a synthesis approach/method. And wireframes are a method to illustrate concepts.
Techniques are our individual styles for implementing methods. My technique for affinity diagramming is to leverage Trello, while your technique, or style might be Mural or post-it notes. My technique for supporting research participants is to savor silence and allow them to fill the empty spaces. Your technique might be to ask "why" in a more nuanced way.
Methods are the "how to" in an academic sense, and techniques are our individual brand of behavior. When honing your research, facilitation, and communication skills it is important to learn the methods and to adapt them to your own individual technique (or brand). My approach is not one size fits all and I encourage my workshop participants and all practitioners to find your voice as a researcher and practitioners.
Conclusion
The Guadalajara community struck me as a very engaged, very interested, and very curious community. The questions being asked during our Q&A sessions were very insightful of folks who are aware there is a lot to learn, and a lot already figured out. Nobody took anything said for granted and there was an open dialogue about how research, facilitation, and methods could be adopted.
I look forward to seeing the Mexico tech scene continue to grow look forward to hearing from the participants as they move through their careers.
Grab a copy!