I couldn't have been more than 12-years old. I was sitting in the passenger seat, my dad driving, with the radio on. There was an interview with an actor though we tuned in too late to know who the host was speaking with.
I started shifting my position in the seat to try and imitate how this person was sitting. It was a casual, male voice. He was speaking slowly, almost lethargically, as if he was leaning back, or to one side. I got the feeling he used one hand to articulate what he was saying. Then it hit me.
Nicholas Cage.
Though my thought of Cage at the time was closer to his character in Face/Off (1997) where he plays a suave criminal mastermind / cop depending on the point in the movie.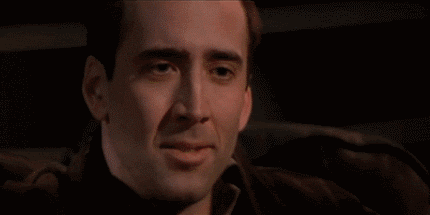 Why do I bring up this anecdote about Nicholas Cage? It's because I was able to guess who he was. Not because of his fame or popularity at the time. Not because I recognized his voice. But because I recognized, through the radio, his body language.
Body language is a powerful tool.
It communicates who we are and how we see ourselves. It communicates status. It communicates stress or anxiety.
In improvisation, we use body language to communicate these things to our scene partners and to the audience. Body language communicates emotion as strongly as dialogue and space. A character in love carries themselves very differently than a character suffering heartbreak.
In product design, we use body language to read our customers. In research, body language is invaluable to understand when a participant may be willing to open up further, and where they might be closing down. It's critical to understanding when our stakeholders need to feel heard and need to be right compared to the times they are looking to contribute. And it's important to understand body language with our peers and sense when they want more responsibility and where they might need to take step back.
Body language is a powerful tool. A superpower. This isn't a specific improv story, but it's a memory from before I knew what improvisation was that applies to the craft.
Speaking of the book…
Did you know you can pre-order the Kindle version (to be available June 17!). Amazon KDP doesn't allow pre-order of the print edition but I hope to launch that about the same day. To be among the first to know, sign up for newsletter notifications!
STAY NOTIFIED of book updates by signing up for the newsletter!